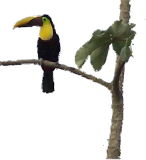 The 2100 sq ft home is air conditioned with two master suites. Each having it's own large bath with walk-in closet and a whirl-pool tub, linens provided . The kitchen and living room are very large, great for entertaining. Cable TV, High speed Internet provided. Maid service and chef available upon request.
One hour transportation to and from the airport available, we use Budget out of Jaco for our car rental .
Easy access to our beautiful pool from your bedrooms and living room.
You will Love the privacy, just rain forest and maybe some macaws!